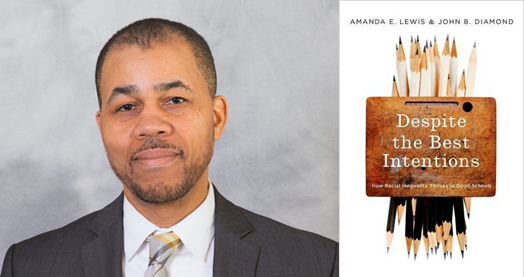 Where
012 Lewis Katz Building, University Park, PA, 16802
When
Wednesday, November 11, 2015 - 6:00pm
Dr. John Diamond, Hoefs-Bascom Profesor in Educational Leadership and Policy Analysis at the University of Wisconsin-Madison presented findings from his book, "Despite the Best Intentions: How Racial Inequality Thrives in Good Schools".
A sociologist of education, Dr. Diamond studies the relationship between social inequality and educational opportunity examining how educational leadership, policies, and practices shape students' educational opportunities and outcomes. He has also published extensively on the relationship between educational policy and equity – primarily in K-12 settings.
How does racial inequality in educational outcomes persist in an affluent, diverse, well-funded school district in a self-proclaimed racially progressive community? Why is it that even when all of the circumstances seem right, black and Latina/o students continue to lag behind their white peers? In this talk, John Diamond discussed how racial inequality becomes embedded in organizational routines in ways that help reproduce educational inequality. He highlighted three organizational routines –discipline, tracking, and opportunity hoarding –and demonstrated how each is implicated in the "achievment" gap.
Listen to it via Penn State Law's mediasite or on the CECR Vimeo page.
Co-sponsored by the Law and Education Alliance at Penn State (LEAP).